UPCOMING
Awareness on Cyber Security
Wednesday, 17th August 2022 4:00 PM - 5:30 PM IST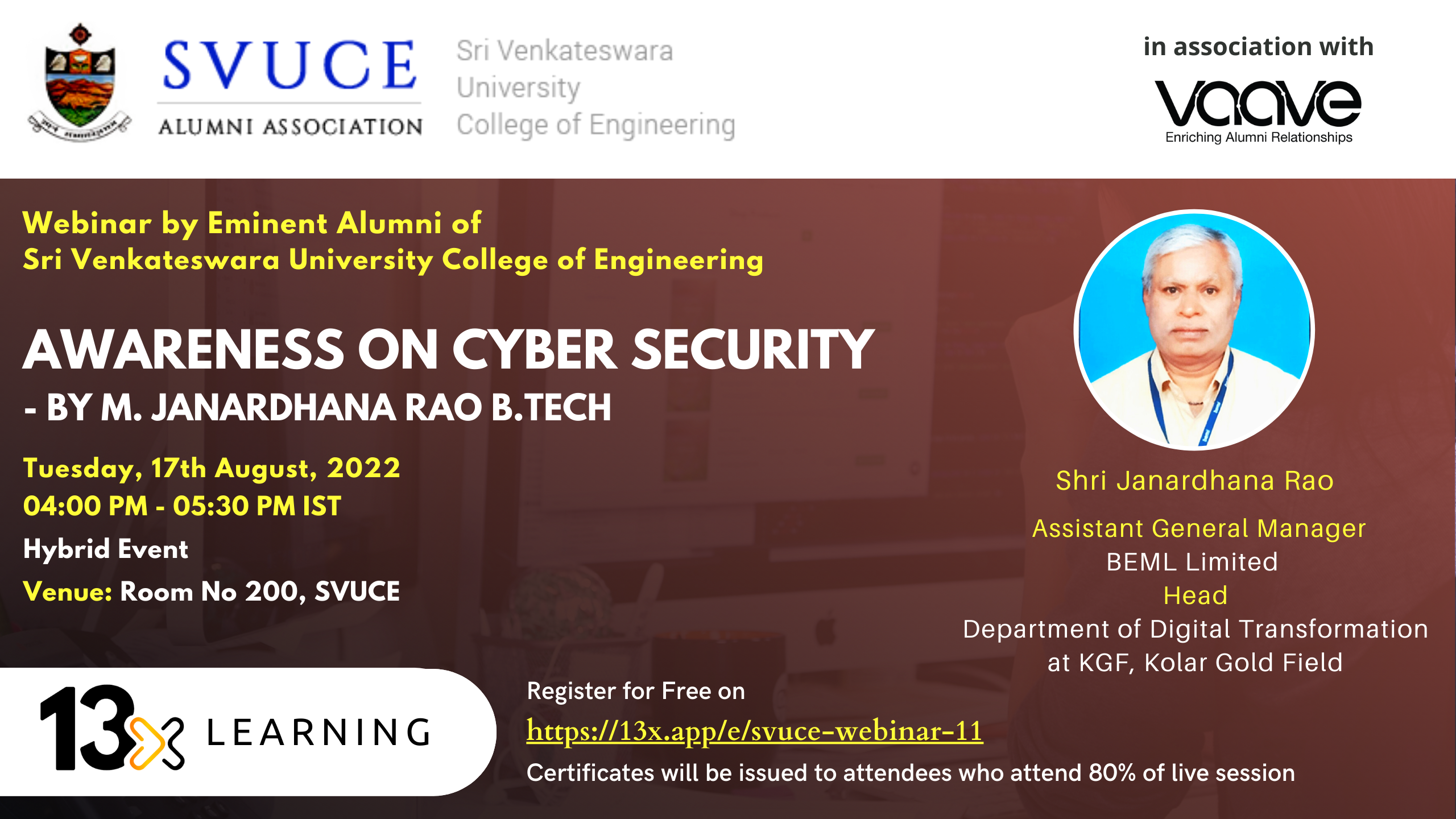 "Awareness on Cyber Security"
- (As per guidelines by Cyber Security Jagrookta Campaign, Ministry of Home Affairs, Government of India.) By M. Janardhana Rao B.Tech
Hello everyone, Sri Venkateswara University College of Engineering (SVUCE) Alumni Association warmly welcomes all students, alumni, faculty for this special hybrid event by 1980-84 batch alumnus.
This special webinar/ hybrid event is to commemorate SVUCE founder principal, Prof. G Ramakrishnan, on his birth centenary year celebrations during 15-8-22 to 20-8-22.
About the lecture - Awareness on Cyber Security
Synopsis: This lecture is mainly for all students pursuing Engineering and for all Internet Users in General.
Cyber Security is very much essential to safeguard our Information assets like Data, Hardware, Software, Network and our National Security and Businesses.
This lecture mainly to bring awareness on:
(a)Cyber Security best practices as part of Cyber Security Jagrookta initiated by the Ministry of Home Affairs, Government of India.
(b)Career options and scope in the Cyber Security arena in India and world-wide for aspiring students.
(c)Cyber Laws, Authorities and Privacy awareness.
(d)Major Cyber Security Threats, Breaches and Mitigation Methodologies.
About the speaker -
M. Janardhana Rao B. Tech

Graduation: Bachelor of Technology in Electrical and Electronics Engineering, Sri Venkateswara University College of Engineering, SVUCE (1980 - 1984)
Certification & Training
Cyber Security Best Practices – C-DAC
Sybase RDBMS – NIIT
SAP Implementation – BOSCH
Professional Experience
BEML Limited, Asst General Manager, Head of Department, Digital Transformation, KGF Complex, BEML Limited, Kolar Gold Fields – Karnataka.
Major Projects Executed Implemented Major SAP Module Like PP, MM, QM, PM, SD and FICO as a SAP Core Team Member for BEML.
Headed Materials Management Non-Project Section and Implemented SAP Web Based Add-on Packages Like SCM-ICH, SRM
Implemented Paper-Less Office – SAP-FLM (File Lifecycle Management)
Headed the development and Implementation team for Applications on Sybase RDBMS on Legacy environment.
Spear Headed Cyber Security Initiatives and Training Programs at KGF Complex, BEML Limited, and trained over 600 Officers and Employees as part of Cyber Security Jagrookta Program.
Total Years of experience: 30+ years
Professional Memberships: Indian Institute of Materials Management (IIMM)
Agenda and Panelists
Join zoom video link by 15:50 PM to settle down.
16:00- Address by The Principal, SVUCE Prof. RVS Satyanarayana,[email protected]
16:06- Introduction of the Speaker by Prof. Humera Khanam, , Head, Dept. of CSE, SVUCE - [email protected]
16:10 - Address and talk by the Speaker Sri M Janardhana Rao, [email protected]
17:10 - Q& A session and Vote of thanks by Dr. T Rajendra Prasad, [email protected]
17:15 - Conclusion
Time management is of prime importance.
The participants of the webinar have access to chat - box and Q&A - box to type in the questions.
Digital certificate will be provided to the participant, who attend the webinar for more than 80% of time.
All SVUCE alumni are requested to register at SVUCE alumni association network portal by clicking www.svucealumni.org , and mentor the alumnus and alumnae of the college thru this network portal.
Fill in just 9 star-marked fields Name, phone number, college passing out year, course, branch, roll number, location.
At present, the lifetime membership by registration at network portal is free of cost.
About 3900 members of 20000+ alumni strength connected using this portal, that is developed during 2016.
It is for knowledge transfer, innovation and start-up guidance, career guidance, guidance on higher studies abroad etc... to younger generation alumnus and alumnae.
You are requested to make SVUCE vibrant by alumni engagement activities.
Thank you
With regards,
Executive Committee,
SVUCEAA Tirupati.
Share with your friends who might be interested