COMPLETED
"Happify" - Journey from stress to Happiness.
Tuesday, 16th August 2022 4:00 PM - 5:30 PM IST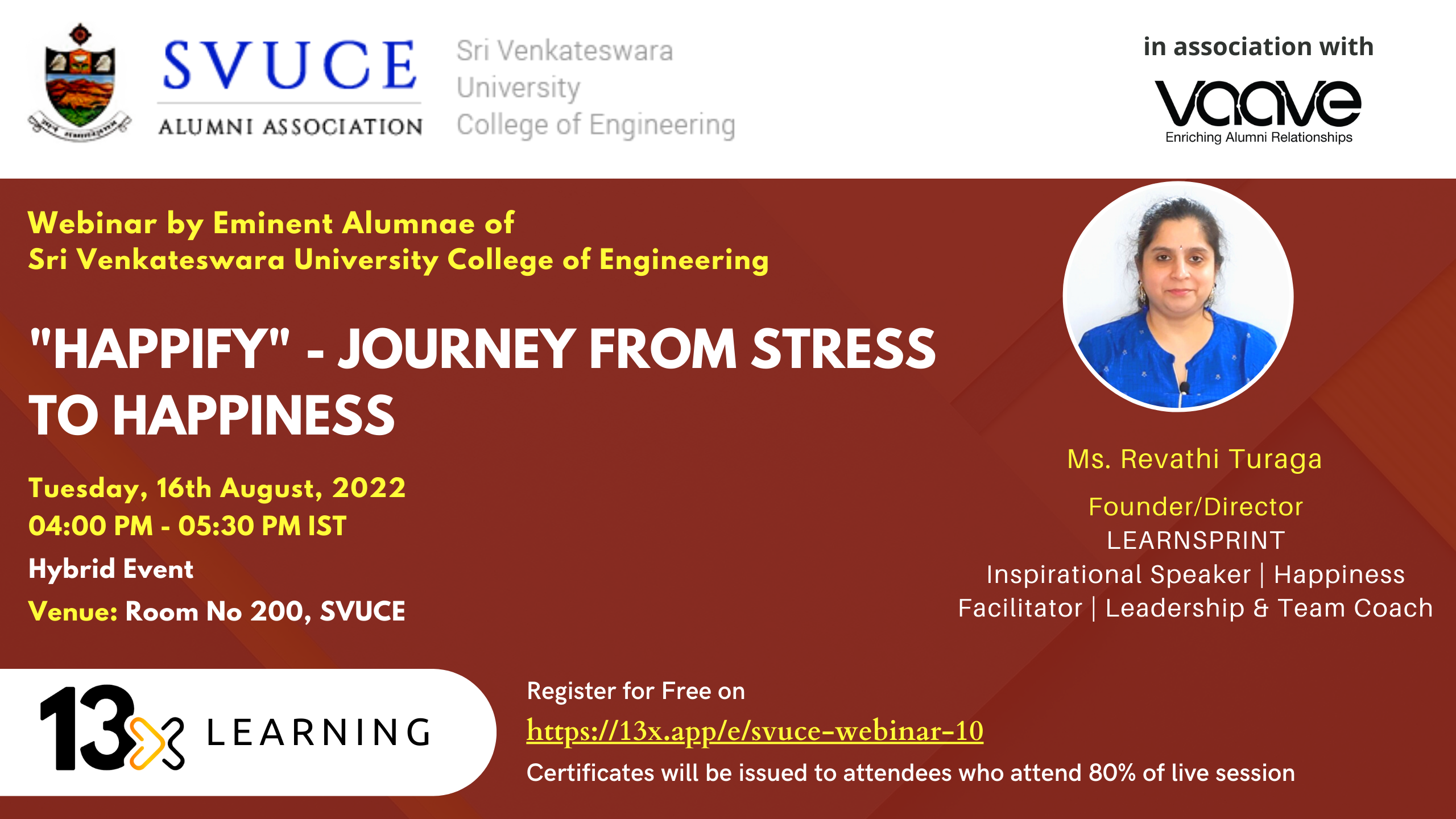 "Happify" - Journey from stress to Happiness.
Hello everyone, Sri Venkateswara University College of Engineering (SVUCE) Alumni Association warmly welcomes all students, alumni, faculty for this special webinar by 1993-97 batch alumnus.
This special webinar/ hybrid event is to commemorate SVUCE founder principal, Prof. G Ramakrishnan, on his birth centenary year celebrations during 15-8-22 to 20-8-22.
About the lecture
Synopsis: How happiness leads to productivity, Laughter/Meditation and Stress, Gratitude and positive attitude techniques, Three techniques of transformation from stress to happiness.
About the speaker -
Ms. Revathi Turaga
Leadership and Team Coach, Happiness Facilitator, Counselor, Engineer, Fitness Trainer, Entrepreneur. A 1993-97 batch alumna of SVUCE.
LinkedIn Profile -
www.linkedin.com/in/revathituraga
Agenda and Panelists
Join zoom video link by 15:50 PM to settle down.
16:00- Address by The Principal, SVUCE Prof. RVS Satyanarayana,[email protected]
16:06- Introduction of the Speaker by Prof. P Hema, Dept. of Mech. Engg, SVUCE,. Prof. P Hema, [email protected]
16:10 - Address and talk by the Speaker Ms. Revathi Turaga, [email protected]
17:10 - Q& A session and Vote of thanks by Dr. T Rajendra Prasad, [email protected]
17:15 - Conclusion
Time management is of prime importance.
The participants of the webinar have access to chat - box and Q&A - box to type in the questions.
Digital certificate will be provided to the participant, who attend the webinar for more than 80% of time.
All SVUCE alumni are requested to register at SVUCE alumni association network portal by clicking www.svucealumni.org , and mentor the alumnus and alumnae of the college thru this network portal.
Fill in just 9 star-marked fields Name, phone number, college passing out year, course, branch, roll number, location.
At present, the lifetime membership by registration at network portal is free of cost.
About 3900 members of 20000+ alumni strength connected using this portal, that is developed during 2016.
It's for knowledge transfer, innovation and start-up guidance, career guidance, guidance on higher studies abroad etc... to younger generation alumnus and alumnae.
You are requested to make SVUCE vibrant by alumni engagement activities.
Thank you
With regards,
Executive Committee,
SVUCEAA Tirupati.
Share with your friends who might be interested