COMPLETED
Social Media and Fake News
Tuesday, 19th October 2021 4:00 PM - 5:00 PM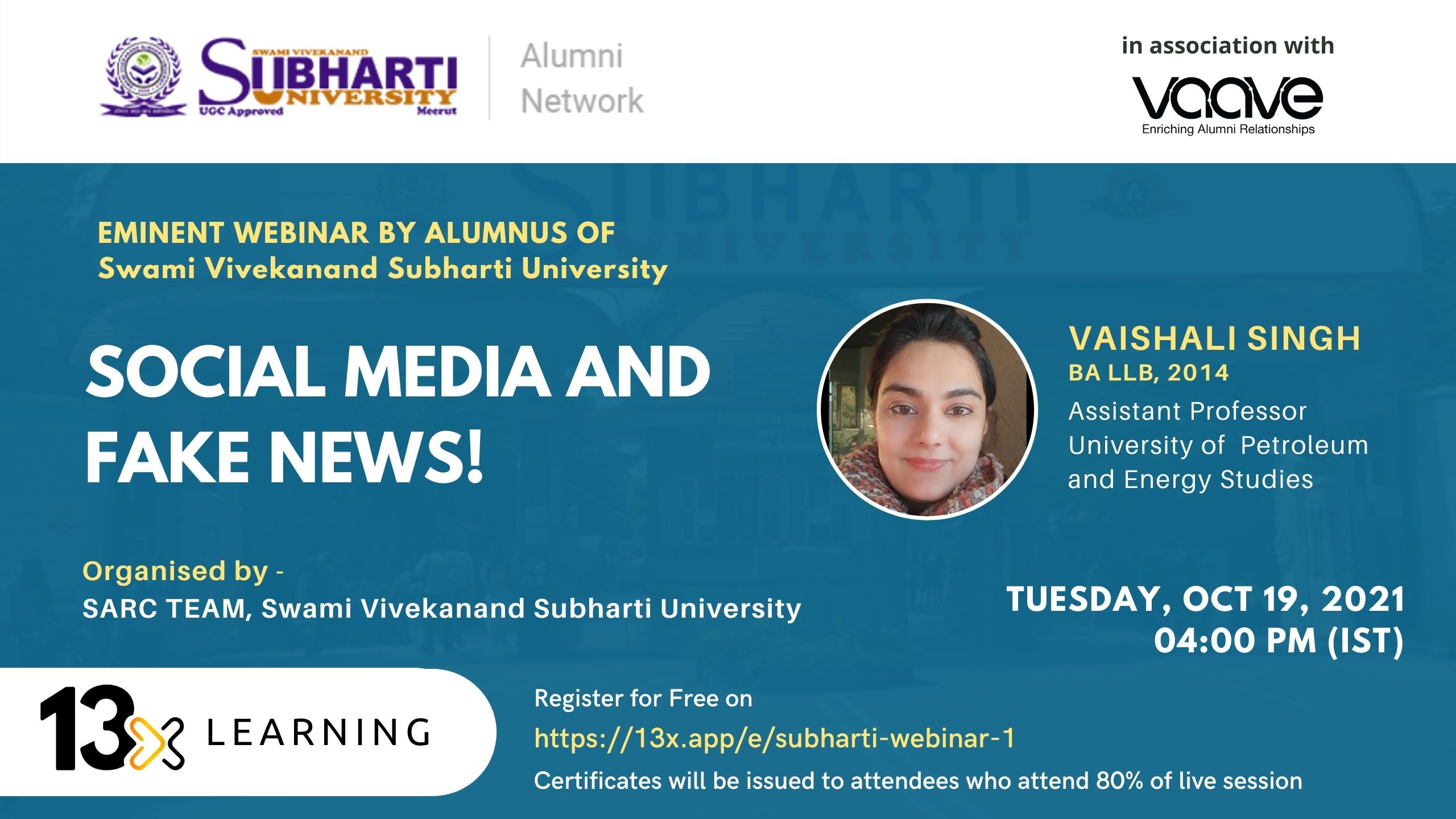 Social Media and Fake News by Vaishali Singh
SARC team of Swami Vivekanand Subharti University, are here with our first session in the Webinar/Workshop Series where our renowned alumni share their journey and guide the students with their insightful knowledge and rich experience in the corporate world. The series covers various areas, ranging from present issues, MBA to GATE to studying abroad, which enables students to get a better outlook about the career options open to them and ultimately choose what's best for them. Every session is followed by a Q&A session where students are encouraged to ask their queries and doubts freely.
About the Session
Social media has had a dramatic impact on the ways we interact with one another. Social media platforms have connected us to one another in new and impactful ways. Stories and opinions can gain exposure with unprecedented speed, giving individuals around the globe continuous access to a near-real-time conversation about both important and trivial matters. Unfortunately, there is a dark side to social media: fake news. Misinformation can influence users, manipulating them for political or economic reasons.
How can you spot fake news, and what can you do to combat it? This session will provide a comprehensive view of the subject and give you the insights on how you'll need to address this burning issue.
About the Speaker
Vaishali Singh is an alumnus of BA LLB from Sardar Patel Subharti Institute of Law, Swami Vivekanand Subharti University, Meerut in 2014.
She is currently working as Assistant Professor at University of Petroleum and Energy Studies. She has an experience of 4+ years in roles of Research Associate.
Share with your friends who might be interested