COMPLETED
Machine Learning and its Scope
Monday, 29th November 2021 8:00 PM - 9:30 PM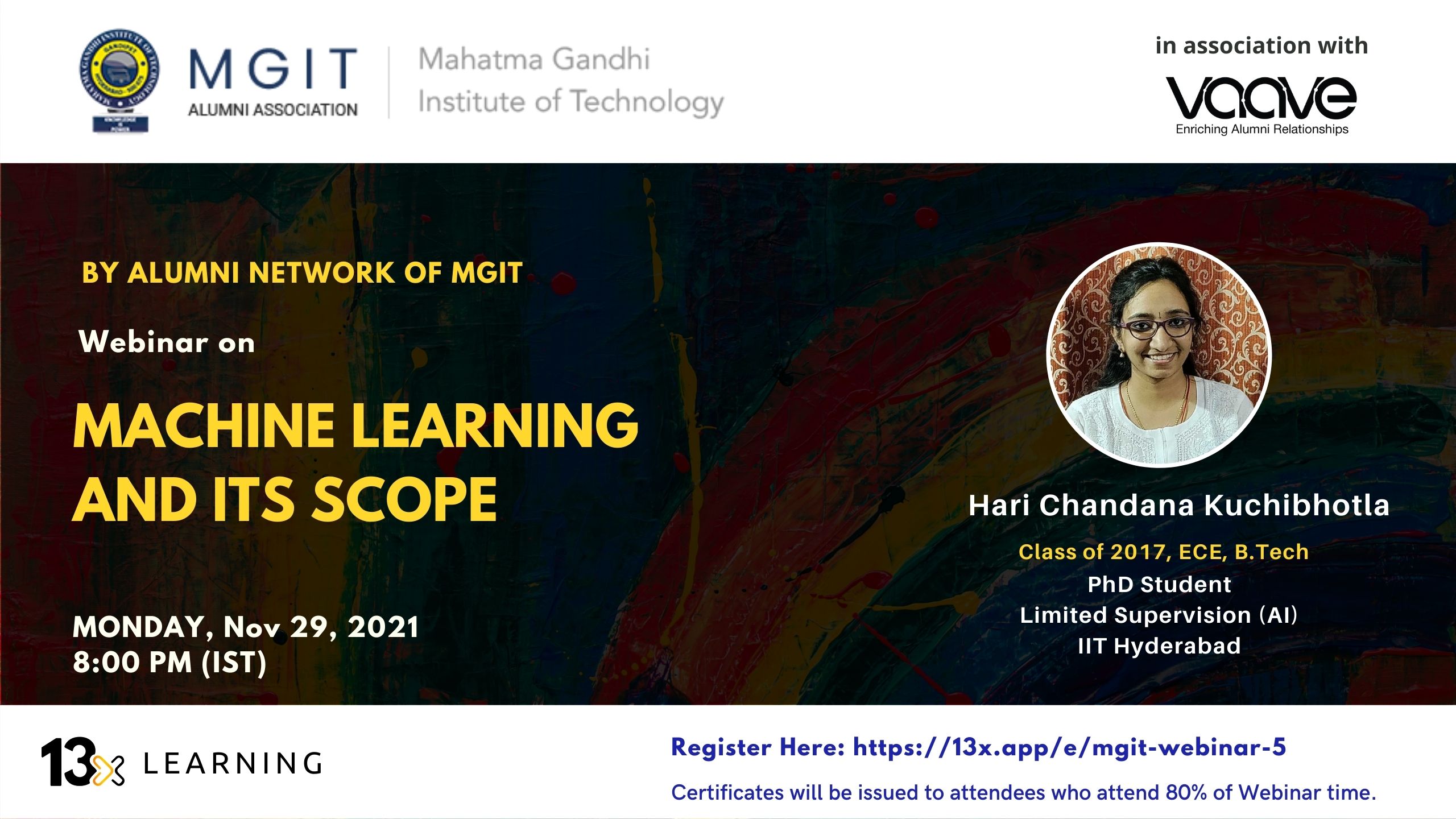 Machine Learning and it's Scope by Hari Chandana Kuchibhotla
Hello everyone,
We, the MGIT Alumni Association are here with webinar Series where our renowned alumni share their journey and guide the students with their insightful knowledge and rich experience from the corporate world.
The series covers various areas, ranging from Career Guidance, Higher Education Guidance, Entrepreneurship, etc., which enables students to get a better outlook about the career options open to them and ultimately choose what's best for them. Every session is followed by a Q&A session where students are encouraged to ask their queries and doubts freely. That being said, we would love to welcome our faculty members as well as our alumni member s along with our students to join our webinars and Guidance sessions.
About the Lecture - Machine Learning and it's Scope
AI & ML has been the top technologies in the recent times. This lecture on Machine Learning provides you a deep knowledge on the Efficient Hardware that is needed for Machine Learning.
Speakers Profile
Hari Chandana Kuchibhotla, Ph.D Scholar
Hari Chandana Kuchibhotla pursuing his Ph.D. in Limited Supervision (Artificial Intelligence) at IIT Hyderabad. She has completed her B.Tech from MGIT in the Department of ECE in 2017. Later, She obtained M.Tech degree in the domain of Signal Processing and Communications from IIT Tirupati in 2020. Worked a couple of months at Toshiba Software Pvt Limited as Associate Research Engineer in the R&D Division. Joined PhD in IIT Hyderabad in the Department of Artificial Intelligence in Sept 2020. She has been selected for the Prime Minister's Research Fellowship (PMRF) in December 2020.
Share with your friends who might be interested