COMPLETED
Business communication and Executive Presence
Saturday, 15th January 2022 11:00 AM - 12:00 PM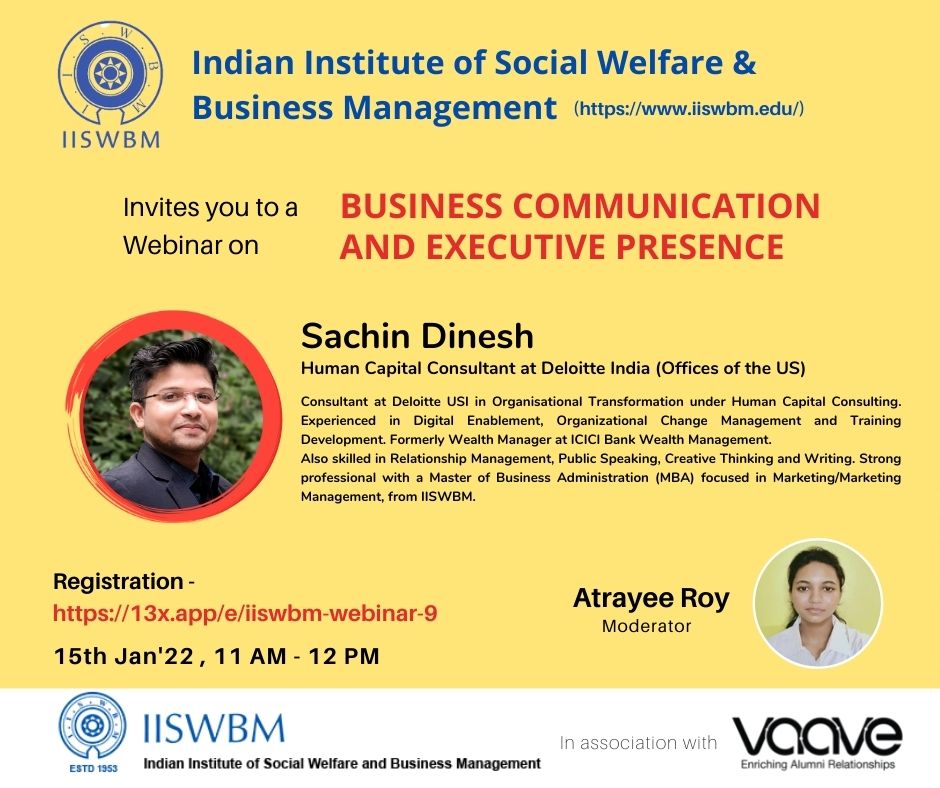 Business communication and Executive Presence by Sachin Dinesh
SARC Team of IISWBM are back with an addition to the webinar series conducted with Alumni as our speakers. This series covers all the topics that are required for Students from Placement Guidance to Higher Studies. Each session is followed by a Q&A forum where we can ask questions and get them answered.
About the speaker -
Sachin Dinesh
Mr. Sachin Dinesh is currently working as the Human Capital Consultant at Deloitte India (Offices of the US). Consultant at Deloitte USI in Organisational Transformation under Human Capital Consulting. Experienced in Digital Enablement, Organizational Change Management and Training Development. Formerly Wealth Manager at ICICI Bank Wealth Management.
Also skilled in Relationship Management, Public Speaking, Creative Thinking and Writing. Strong professional with a Master of Business Administration (MBA) focused in Marketing/Marketing Management, from IISWBM and University of Calcutta. Also a Btech graduate in Electronics & Communication Engineering.
LinkedIn Profile -
https://www.linkedin.com/in/sachindineshpunna/?originalSubdomain=in
Share with your friends who might be interested