COMPLETED
Engineers after Engineering - A guidance session on Job, skills and practical knowledge for ECE Students
Saturday, 27th November 2021 2:00 PM - 3:30 PM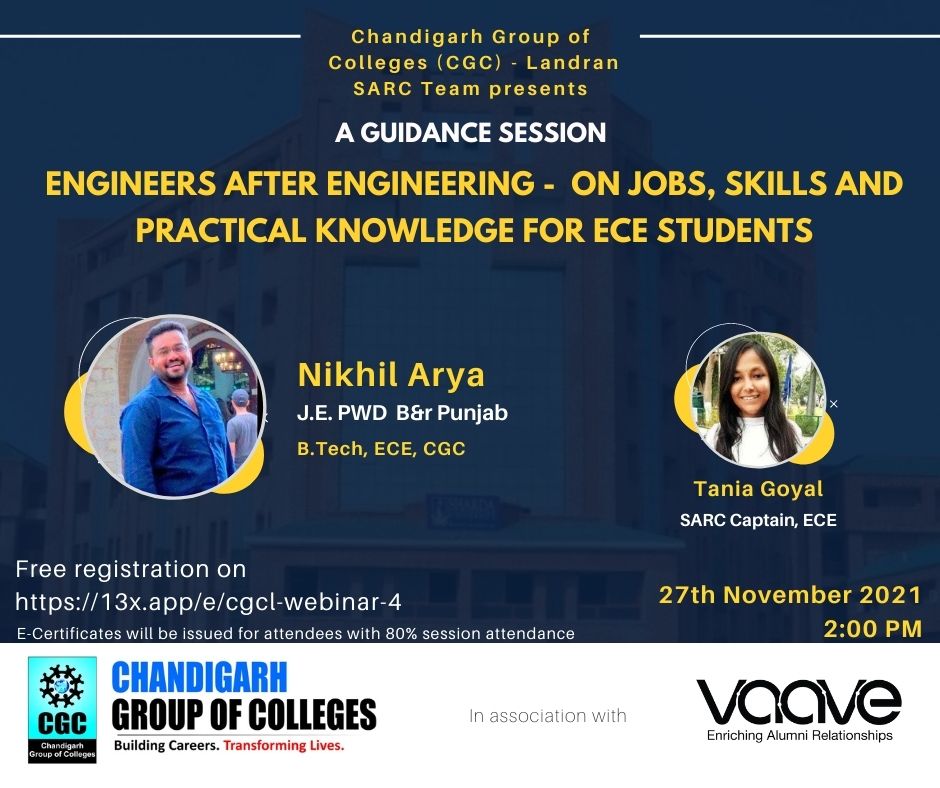 Engineers after Engineering - A guidance session for ECE Students on Job, skills and practical knowledge
by Nikhil Arya
Hello everyone,
We, the SARC team of CGC Landran are back with webinar Series where our renowned alumni share their journey and guide the students with their insightful knowledge and rich experience from the corporate world.
The series covers various areas, ranging from Career Guidance, Higher Education Guidance, Entrepreneurship, etc., which enables students to get a better outlook about the career options open to them and ultimately choose what's best for them. Every session is followed by a Q&A session where students are encouraged to ask their queries and doubts freely. That being said, we would love to welcome our faculty members as well as our alumni members along with our students to join our webinars and Guidance sessions.
About the Session
The session is a guidance session for ECE Students on Job, skills and practical knowledge. Topics that will be covered are:
> Job preparation for govt sector
> Skills used in jobs
> What things to explore during studies i.e. practical knowledge
> ECE students in the field
> Q&A session towards the end.
About the Speaker
Nikhil Arya, from Chandigarh currently working as J.E. PWD B&r Punjab. He is working as a site engineer of prestigious sites of the Punjab government i.e. Hon'ble Governor house , Hon'ble C.M. Punjab, and other cabinet ministers. He is in charge of networking, audio conference, video conferencing solution, Cctv, EPABX, etc govt projects at Governor house, MGSIPA sector 26 chd , vit te yojana Bhawan sector 33 Chandigarh, and various other projects. He has completed his diploma (state topper) from CCET Sector 26 Chd and Btech ECE from CGC Landran.
Share with your friends who might be interested