Whizzard Young Leaders Program
Date to be Announced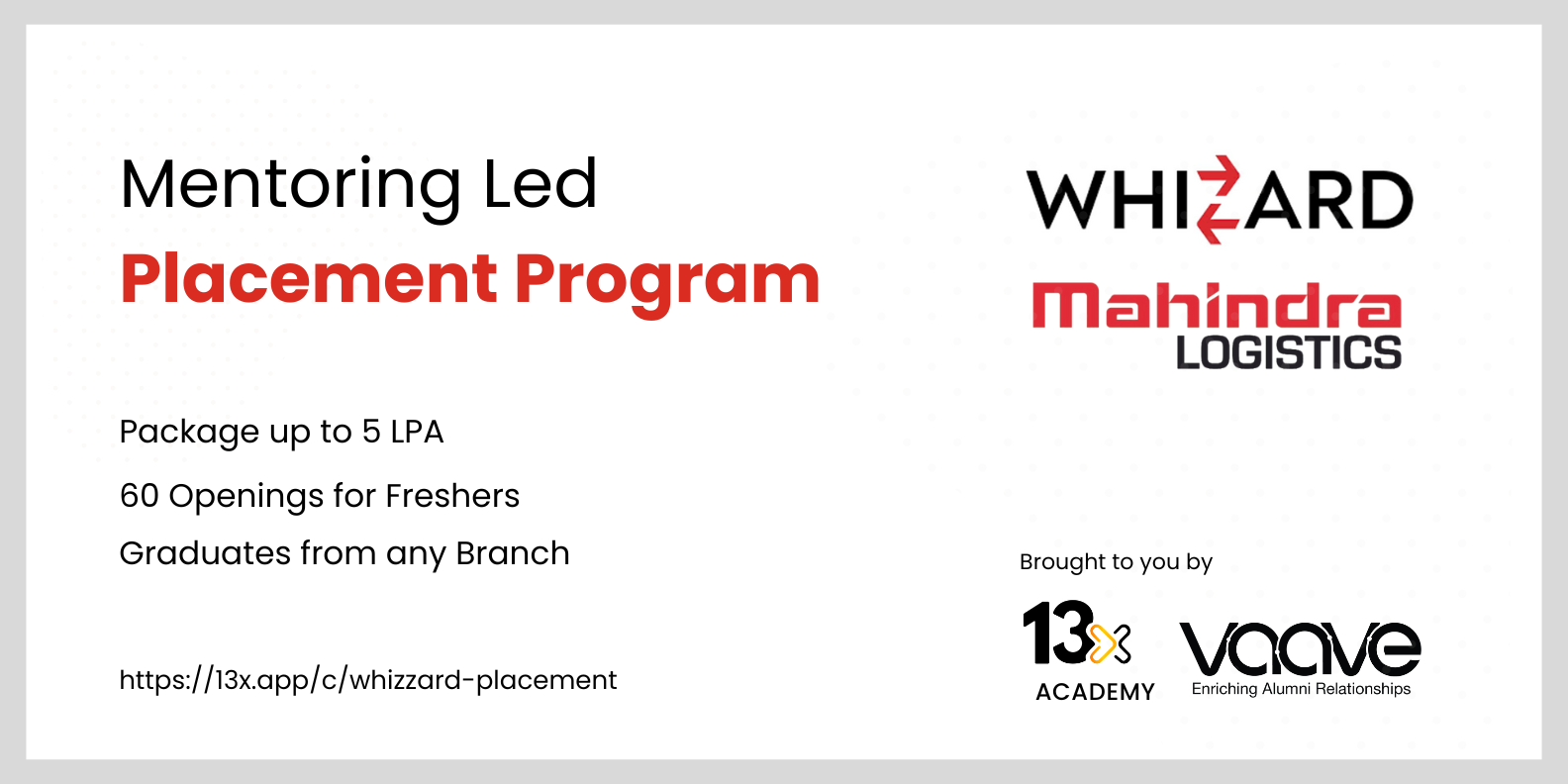 Program Details
Company
Whizzard
Whizzard, A Mahindra Logistics company is a 3PL company with unique and differentiated Last Mile Delivery infrastructure. Whizzard does last mile distribution for brands like Amazon, Flipkart, Big Basket, Udaan, FedEx and DHL.
Role
Operations Manager
The Operations Manager (OM) is responsible for ensuring that our operations run smoothly. The OM delivers predictable, reliable service to our customers by hiring the right people and implementing the right processes. OM will effectively manage multiple stakeholders - driver partners, clients and on-ground supervisory staff.
Open Positions
60 Freshers
Locations: Delhi/NCR, Mumbai, Hyderabad, Bangalore, Chennai
Qualification & Package
MBA / B.Tech / B.Com / BBA
MBA - Upto INR 5 LPA
B.Tech / B.Com / BBA - Upto INR 3.75 LPA
+ Laptop + 2 L Insurance Coverage



Program Structure
Day 1:
Apply
Submit Application along with Video Introduction
Day 3:
Telephonic Interview
Counsellors from 13x Academy will call for an assessment over telephonic interview.
Day 6:
Mentor guided Assignment
Mentees will receive industry based assignment under the guidance of a mentor. Mentor will give personalised guidance.
Day 10:
Resume Review & Mock Interview
Resume Review and Mock Interview by Mentor to brush up Mentee for placement drive
Day 14:
Placement Drive
Mentees attends Placement Drive

Share with your friends who might be interested